Ok, I got some pictures of my work station this evening. The larger version is
here.
I took this picture to just give you an idea, I took three other pictures that are closer and show some more detail :)
First is the left side of my station.
Click here
for the larger version.
On the left is some work related papers, folders, et cetera. On the wall are pictures of friends and family, some of you might recognize yourselves on this wall.
Next to the pictures is a Christmas ornament that a coworker gave me, then a calendar. Underneath the pictures is a time-zone map, very helpful for calling customers and stores in different parts of the US. Then there's my water bottle - I refill that thing at least three times in the 8 hours I'm there. My computer has a picture of my friend Tracy (Cooper from DioM) and two of Mr. Davis' daughters. On the desk it self is a picture that Tracy gave me from her missions trip to Mexico, a My Little Pony, a picture of my dad's dog Blackie, and my keyboard.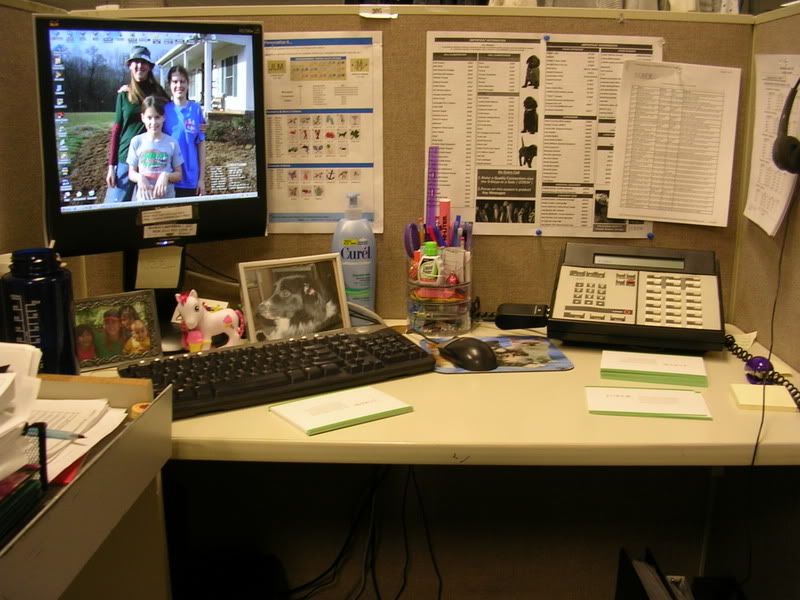 In the second picture (
click here
) you first see the same computer, photos, and keyboard. On the wall is some work related stuff, including a list of all the current retail stores.
Next to the picture of Blackie is my lotion. Then a cool plastic thing that holds my pens, ruler, highlighters, scissors, rubberbands, paperclips, whiteout, and thumbtacks. Then there's my mouse, with the kitty mousepad. Then my evil phone.
And, the
third
picture. You see the evil phone again. There's also my little purple stapler, pad of sticky notes, and hand sanitizer. On the wall is a copy of my schedule, my evil headset that goes with the evil phone, a list of extensions for my coworkers, and my favorite poster :D Oh, and my purse is also there :)
Well, that's it! I hope you had fun!