Hello everyone! Ileigh at
A Certain Slant of Light
awarded me with this nifty award! Check out her blog, her family is doing some cool stuff soon!
If you are tagged:
1. Post about the tag.
2. Pick 6 bloggers who deserve this award.
3. Leave a comment on the blogs of the people you tagged letting them know they were awarded.
4. Answer the questions along with your post. (Omit questions you don't want to answer - I'm all for simplicity!)
1: Apples, Oranges or Bananas?
I love all three but I'd have to go with oranges. I don't get nearly enough of them :)
2: How many siblings do you have?
Two biological siblings, 1 brother and 1 sister. I have a lot of friends who I've adopted as brothers and sisters, though.
3: How old are you?
I'll be 29 in a week.
4: Do you live on a prairie, woodland, swamp, city or other?
Uhm...other? It's not a city like New York or Boston, more like a suburb. I live in an apartment so no prairie or woodland, I'm afraid.
5: Scissors or glue?
Haha, seeing as I'm a sewer/quilter, I'll go with scissors.
6: Describe your dream house.
Hmm. My dream house is one in which I live with my husband and children (when I get married, of course). It would need to be big enough for all of us, certainly. I'd love to have a big porch that we can sit out on in the mornings and/or evenings. A fireplace with a mantle for cold winter nights.
7: Is your room clean?
Uhmmm, sort of? Maybe? A little teeny bit? It's not a disaster area, but it does need to be vacuumed and dusted in here...
8: If you could be a movie character for a day, who would you be?
Oh boy, who would I be. I think I'll have to go with .... *thinks* Atreyu from The Neverending Story. Yes, I
know
he's a boy, but come on .. he has a horse AND a luck dragon.
9: Italy, Greece, France, Spain or England?
Definitely either England or Italy.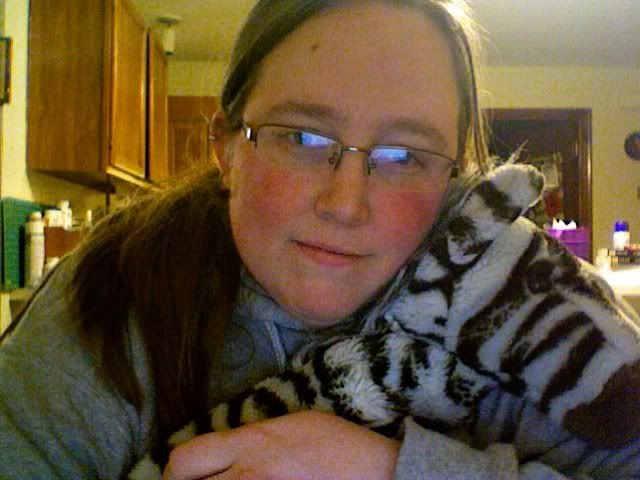 10: What denomination are you?
Kinda sorta non-denominational, heh.
11: Do you sleep with a stuffed toy (BE HONEST!)?
You BET I do! ZEBRA!!!!
12: Gum, chocolate, or jelly beans?
I can't choose, I have to go with "all of the above."
13: What is your favorite book?
Just one?! You're kidding right? Here we go: All the
Dragons in our Midst
books, all the
Oracles of Fire
books, the
Echoes from the Edge
trilogy, "Starlighter", "I Know Why the Angels Dance" (all of those by Bryan Davis), "By Darkness Hid" by Jill Williamson, "Black Beauty" by Anna Sewell, all the
Chronicles of Narnia
(I think you know the author for those)...just to name a few.
14: Favorite ice cream flavor?
I'll have to go with Mint Chocolate Chip (or whatever variation) and Chocolate Chip Cookie Dough.
15: If you had to eat one type of food for two weeks, what would that food be?
Potatoes or pasta.
16: What is your favorite Olympic sport?
Figure Skating
17: Describe yourself in three words.
Christian, Crazy, Creative (yay for alliteration!)
18: What chore do you hate?
Laundry :/
19: If Elmo came into your room with a gun, what would you do?
. . . Um . . .
Okay, the ones I've decided to tag are:
Marie -
Marie Loves
Emily -
Emily's Cancer Blog
Jessica -
*Faith WITH Actions*
Levi -
Hearts Ablaze
(even a guy can be pure in heart :-) )
Nicole -
The God Files
HolyPure -
Forsaken Armor - HolyPure